NYU Design
Selection of design work from my time at NYU.
Interwoven
Interwoven is an interactive multimedia installation made in collaboration with my friend, Elaine Lo. The project was showcased at the Galltin Arts Festival 2018. Interwoven combines the natural tactility of found material with physical computing. As the viewer approaches the piece, LEDs light up across Interwoven's surface, activating the work and the space it occupies and implicating the viewer in this exchange. This responsiveness reflects the ethics of living responsibily during a time of anthropgenic climate change and environmental injustice. Interwoven is an interactive work that emphasizes the need to look to life as a diverse assemblage of inter- and intra-related entanglements, connections, branches, and networks, and a way of seeing all living things as kin. Full documentation on how we made Interwoven can be found here.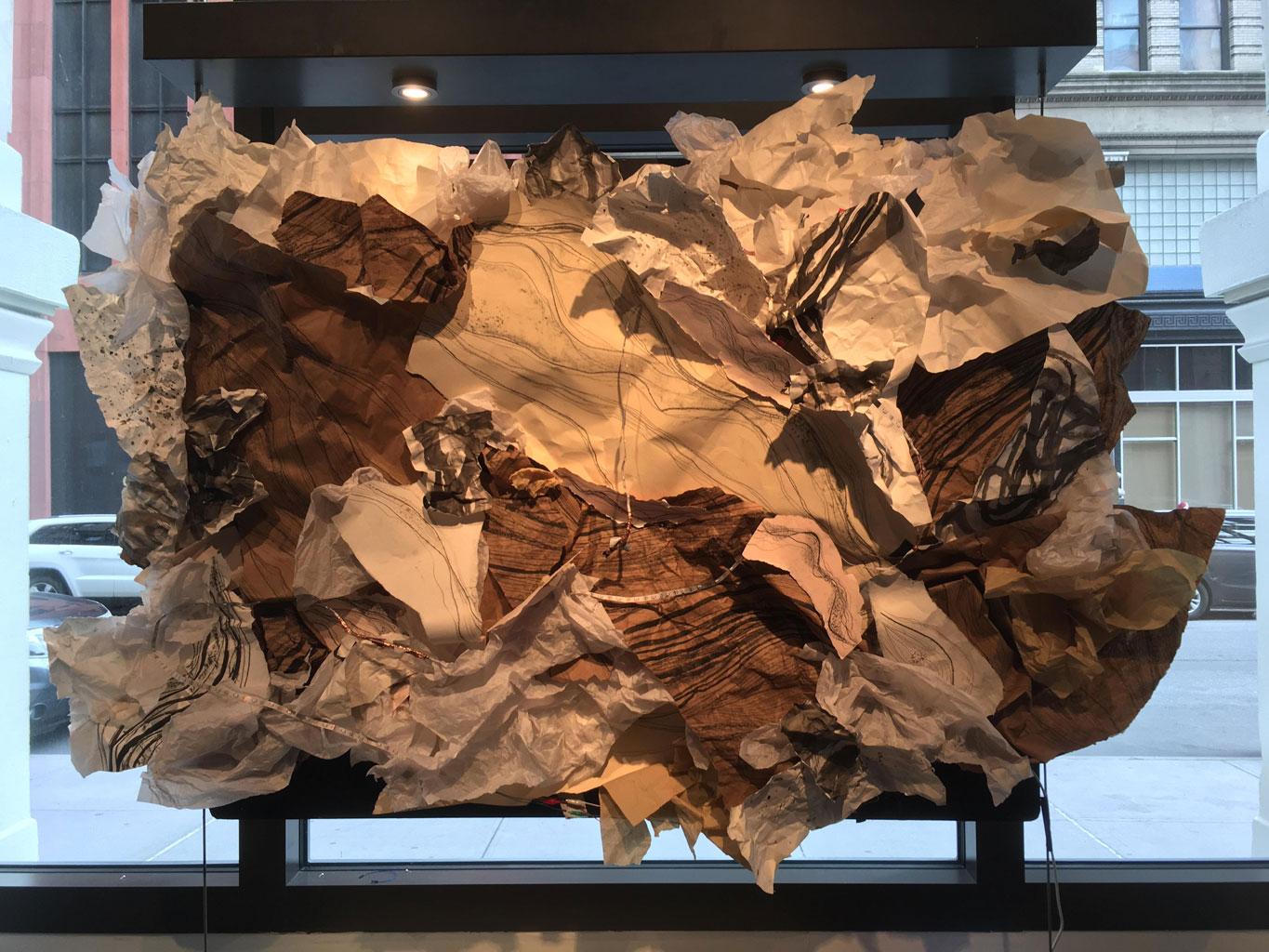 "Select" Beer Branding
Branding assignment for Design Studio at NYU. The assignment was to create branding for "Select," a fictional craft beer from the makers of Pabst Blue Ribbon. With PBR's Americana visuals and "No-Marketing Marketing," the drink is a staple for counterculture crowds. Pabst Brewing Company now seeks to expand its market by launching a craft beer targeted to an older audience.
I honed in on the image of Select as a beer meant for an edgy crowd. However, unlike PBR's association with indie artists, Select was the drink for art influencers who hold MoMA membership cards and attend cocktail openings at David Zwirner. Following this theme, I was interested in creating a series of craft beers whose designs play on the word "Select." Drawing inspiration from American artists like Franz Kline, Lee Krasner, and Casey Reas, I used a monochromatic palette featuring sleek letter forms to complement the idea of beer meant for a more mature consumer. The label design differs based on the type of beer and is intended for beer cans, echoing PBR's iconographic beer can designs. Ultimately, Select is the drink of choice for creatives who have grown out of the underground scene but still appreciate the noncomformist edge of PBR.
FEED Magazine
FEED Magazine was made for Creating a Magazine at NYU in collaboration with Andrea Meyer, Euan Rugg, and Sara Nuta. We were all interested in art and the Internet so we wanted to make a publication that served as a physical archive for the rapidly changing digital sphere. Rather than approach the web as the antithesis of print, we wanted FEED to document the velocity and development of online culture.
We decided to approach the magazine like a scrolling newsfeed to evoke the feeling of reading without a definite end. We designed the pages to be printed as a Jacob's Ladder that could be both folded like an accordion and laid out completely flat. Because the magazine was double-sided, we split the content so one side reflected Web 1.0 (designed by Euan), and the other side Web 2.0/3.0 (designed by me). We wanted the reader to feel like they were traveling through an Internet time capsule. Ultimately, FEED measured 145 inches with 34 pages of original content.
Skin Deep
Skin Deep is an interactive web project made in collaboration with Sabrina Goodman. We asked students about how they view their own identity, and paired the audio of each interview with a color swatch based on interviewees' skin tones. By pairing the skin tone with the recording, the "skin" is given life by the interviewee's story, exploring self-reflection and external bias based on appearance. The website can be found here.